GEOGRAPHY
The municipality has a land area of 8,412.75 km2, representing 4.5 percent of the total area of the state. Key locations, as well as the municipal seat is the village Luis B. Sánchez, Golfo de Santa Clara, Nuevo Michoacán and Islita.
WEATHER
San Luis Rio Colorado is one of the hottest cities in Mexico. In summer the temperatures are up to 50 degrees. In winter the climate is mild with occasional frosts. At times there have been quite cold temperatures, the thermometer reaching to 0 degrees Celsius. San Luis Rio Colorado is among the driest cities in the country.
Land
Flat ground at 42 meters. on the mean sea level, forming 100% sand. The PIISL is located on uniform sandy soil, which gives a number of special qualities to the most economical building structures, for the ease and speed with which it works and manipulates the ground.
ECONOMIC DEVELOPMENT
The main economic activities are industry, agriculture, livestock, fisheries and trade. According to national census INEGI, the economically active population (EAP) in 2000 was 54.982 inhabitants of which 54.425 inhabitants represent the total workforce employed, composed as follows:
| Sector | People | percentage (%) |
| --- | --- | --- |
| Primary | 9,651 | 19.19 |
| Secondary | 8,557 | 30.94 |
| Tertiary | 15,620 | 46.44 |
| NOS | 885 | 3.43 |
| Total | 33,828 | 100 |
COMMUNICATIONS
The city is connected to the peninsula of Baja California and Arizona and California by paved roads. Both the road between San Luis Rio Colorado with the other municipalities of Sonora and the Colorado River Bridge was completed in 1958. On July 25, 2009 Coastal Highway was completed, connecting to San Luis Rio Colorado to Puerto Peñasco.
While San Luis Rio Colorado has no commercial airport you can travel from airports in the neighboring cities of Mexicali, Baja California and Yuma, Arizona. In 1948 he finished building the Sonora-Baja California railroad crossing the town in several places of the valley.
PLACES OF INTEREST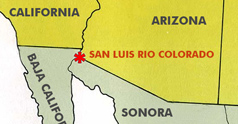 Country: México
State: Sonora
Location: San Luis Río Colorado
Location: 32°28'36"N 114°45'45"
Altitude: 40 msnm
Established: 1907
Population (2005): 157,076 hab.
Time Zone: Mountain Time, UTC-7
Postal Code: 83400
Pref. Phone: 653